What are the Best Grounds for Divorce?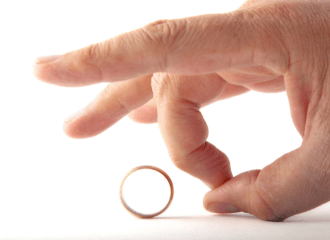 The best grounds for divorce depend upon the divorce laws your state follows and the type of divorce petition you file.
If you choose to file a no-fault divorce petition, you can cite any one of the following issues as a reason for divorce:
Irreconcilable differences
Incompatibility
Irretrievable breakdown of marriage
If you choose to file an at-fault divorce petition, one or more of the following serious marital wrongdoings actually committed by the other spouse make for a strong ground for divorce:
Bigamy
Infidelity
Fraudulently/forcefully getting married
Abandoning the spouse without reason
Abuse (mental or physical)
Addiction to substances
Impotence
Incurable mental illness
Other reasons specified by your state
5 Factors to Consider Before Citing Grounds in a No-Fault or At-Fault Divorce Petition
As of June 2022, just 19 U.S. states are truly no-fault divorce states. In these states, the courts either prohibit or severely restrict your ability to file an at-fault divorce. If the other spouse has committed a serious marital wrongdoing, you may sue him/her for compensation in a separate case, but you cannot use the wrongdoing as a ground for divorce. However, if the marital misconduct has impacted the children, the courts will take it into account while deciding on child custody and either restrict his/her visiting time or deny visiting rights.
The remaining states follow the at-fault divorce rule but they allow spouses to file a no-fault divorce petition. Therefore, you may choose to file an at-fault or no-fault divorce petition in an at-fault divorce state. Most spouses opt for no-fault divorce though. However, when the marital wrongdoing is very serious, some spouses may opt to file an at-fault divorce application so that they can get sole child custody or a bigger share of alimony and marital property, or both.
In a no-fault divorce, it is sufficient to say that the marriage is not working because the spouses are incompatible, or have irreconcilable differences, or that the marriage has broken down irretrievably. The petitioning spouse does not have to allege marital wrongdoing or provide proof of it. The spouse who is served the notice cannot object to the divorce itself, because if he/she does then the objection will be considered an "irreconcilable difference" by the courts. However, as mentioned earlier, in some cases, where the evidence is compelling, the petitioning spouse can sue the other spouse for compensation separately.
In some states that allow no-fault divorce, the spouses are required to live separately for a specified period before filing the divorce petition. Most states do not have this requirement, however.
An at-fault divorce takes longer and is more expensive to resolve than a no-fault divorce, which is quicker, easier, and more affordable. This is because the at-fault divorce petitioner and his family law attorney have to conclusively prove marital wrongdoing (bigamy, infidelity, abandonment, fraud, abuse, addiction, etc.) committed by the other spouse, and proving it involves hiring investigators, expert witnesses, and takes legal time for reading and analyzing the evidence, and more.
Contact Us – We Are Here
to Help You
Schedule a time to talk with us – we are here to help you. When you meet with your attorney, we will go over your entire case, your children, your money and everything else that's important to you. Our goal is to remove the fear associated with divorce by protecting your money and maximizing your time with your kids, all within 3-6 months. We look forward to meeting with you!
Call us 24/7 at
801-685-9999
to Speak with a Live Representative
Get A Legal Consultation With An Experienced Utah Attorney
While this website provides general information, it does not constitute divorce advice. The best way to get guidance on your specific divorce issue is to contact a lawyer. To schedule a divorce consultation with an attorney, please call or complete the intake form above.
The use of the Internet (or this form) for communication with the firm (or any individual member of the firm) does not establish an attorney-client relationship. Confidential or time-sensitive information should not be sent through this form.