Can I Sue for Divorce?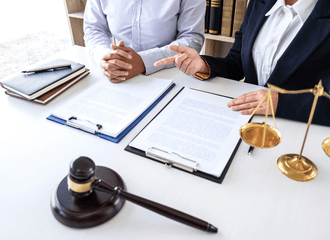 You sue a person or an organization when you initiate legal action against the entity. When you file for divorce, it means that you have initiated legal action against your spouse. Therefore, when you file a divorce petition, it implies that you have sued your spouse.
"Filing for divorce" is a gentle phrase while "suing your spouse" sounds hostile and aggressive – but both mean the same thing.
When the divorce papers are served on your spouse, he/she may or may not sign them. If he/she signs the papers, the divorce is uncontested, but if he/she refuses to sign, it becomes a contested divorce.
Difference Between Suing for Uncontested Divorce vs. Contested Divorce
In an uncontested divorce, both spouses decide and agree on all matters related to the divorce, including:
A divorce is contested when both spouses do not agree on one or more of their divorce issues. When the case is contested, it heads to the courts, which then make all the decisions for the spouses. Some states, for example, Utah, mandate that the spouses go through a mediation process before the trial stage. A contested divorce takes time to resolve and costs more than an uncontested divorce.
In general, 98% to 99% of divorce cases are resolved before the trial stage.
Uncontested Divorce, Step-by-Step
Spouses reach an agreement on all the above-specified divorce matters.
Their divorce lawyers prepare a divorce settlement agreement.
One spouse files the court forms and the required papers with the courts.
Papers are served to the other spouse.
The other spouse agrees to the terms.
Both spouses then file a stipulation (a stipulation is an agreement between the two spouses).
The courts review the documents.
If the divorce settlement agreement is fair, the judge signs the divorce decree (the divorce is completed).
Contested Divorce, Step-by-Step
Spouses do not agree on one or more divorce matters.
One spouse files for divorce by submitting a divorce petition to the courts.
Papers are served to the other spouse.
The other spouse files an answer and maybe also a counter-petition.
Both spouses exchange relevant information (disclosures, financial records, declarations).
Both spouses attend mediation, or file a motion to excuse mediation.
If the matter remains unresolved, then the spouses go through the discovery process, and possibly the custody evaluation process, and then, when the time is appropriate, one spouse files a certification of readiness for trial.
Then both spouses file their version of the proposed settlement and update their disclosures, financial records, documents required for child support, and declarations.
Both spouses attend a pre-trial conference.
The case goes to trial and the judge decides the outcome of the case.
The spouses file QDRO if retirement funds have to be distributed or apportioned.
The whole divorce process (contested or uncontested) moves according to the state laws and spouses need to factor in the cooling-off period, divorce education/orientation classes, the type of divorce they have filed for (no-fault or at-fault), the period that the court must wait before issuing the divorce decree, and more.
Finally, remember that you are suing for divorce when you file a divorce petition. It doesn't matter whether the divorce is contested or uncontested, no-fault or at-fault. "Filing for" is putting it mildly, while "suing for divorce" is saying it in a hostile way to your face.
Contact Us – We Are Here
to Help You
Schedule a time to talk with us – we are here to help you. When you meet with your attorney, we will go over your entire case, your children, your money and everything else that's important to you. Our goal is to remove the fear associated with divorce by protecting your money and maximizing your time with your kids, all within 3-6 months. We look forward to meeting with you!
Call us 24/7 at
801-685-9999
to Speak with a Live Representative
Get A Legal Consultation With An Experienced Utah Attorney
While this website provides general information, it does not constitute divorce advice. The best way to get guidance on your specific divorce issue is to contact a lawyer. To schedule a divorce consultation with an attorney, please call or complete the intake form above.
The use of the Internet (or this form) for communication with the firm (or any individual member of the firm) does not establish an attorney-client relationship. Confidential or time-sensitive information should not be sent through this form.