How Do You Know If You Are Ready for Divorce?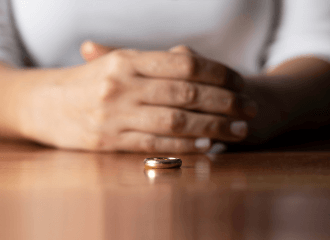 You know you are ready for divorce when your marriage is affected by one or more of the following symptoms:
Lack of commitment
Lack of trust
Lack of intimacy
Constant acrimony/domestic violence
Threats of divorce
Divorce seems to be inevitable
You are ready to handle the negative fallout of divorce
(This is a curated list of signs based on the feedback collected from marriage counselors, divorce lawyers, and divorced people.)
Lack of Commitment
You are in a marriage of convenience and selfishness in which the focus is on "I" and not on "Us." Either spouse asks "Is this good for me?" instead of "Is this good for our marriage?" before making a decision.  If this is what is happening in your marriage, then your relationship is running on "I don't care" mode. When either spouse refuses to commit to the marriage, even after therapy/counseling, then your marriage exists only on paper. This is a strong indicator that you are ready to pull the trigger.
Lack of Trust
Trust is one of the pillars of marriage. Trust may be broken when either spouse lies regularly, commits physical or emotional or financial infidelity, is regularly toxic or disrespectful, makes big decisions unilaterally, and does other acts that make him/her untrustworthy.
When trust is lost between the spouses, it is natural to feel insecure and uncomfortable in the relationship. It makes a spouse fear the worst and feel unhappy and stressed out constantly. Also, once mutual trust is broken, it may be impossible to retrieve it back even after the spouses forgive or forget.
So, if you no longer trust your spouse and feel that your best efforts at winning each other's trust are not bringing any change, then it is a clear-cut sign that a divorce is around the corner. If the spouse does not reform, it may be time to exit the marriage.
Lack of Intimacy
If intimacy is missing in the marriage and you have worked hard to bring it back without any result, then you may feel the time has come to move on.
Constant Acrimony/Domestic Violence
Your spouse's habits make you majorly stressed and anguished, and despite your setting clear boundaries, your spouse refuses to change. These regular fights and arguments take a toll on your mental health. Sometimes, you both break up to give each other space, but the fights just don't stop. You agree very rarely on important issues and continue with the bickering despite the marriage counselor's advice. When you feel that the situation has spun out of control, it is time to part ways.
Domestic violence is intolerable. If during arguments, your spouse has indulged in violence against you or the children, it is time for law and order to step in, and for you to be ready to divorce.
Threats of Divorce
During fights, either spouse may threaten the other with divorce, which may become a regular habit if the couple is at odds almost every day.  This behavior suggests that the threatening spouse has been contemplating divorce for some time now, and may soon get triggered. Also, threatening divorce now and then makes the spouse lose all credibility and diminishes the sanctity of marriage. Typically, the breaking point is reached after a lot of toxicity has set in and either spouse is so angry and frustrated that he/she desires immediate change.
Divorce Seems to Be Inevitable
You have given the marriage a lot of thought and consideration, and counseling, family/friend interventions, and adjustments have not helped. You have thought about your marriage in a cold and unemotional manner, resolved your internal conflicts, and believe that divorce is a better, and perhaps the only, option. You also believe that you are not divorcing to right your spouse's wrongs or to wreak revenge but to improve your mental and physical health and future.
Emotional decisions often backfire, and therefore, when you think about marriage clinically, and feel that divorce is inevitable, it suggests that you are ready for it.
You are Ready to Handle the Negative Fallout of Divorce
Divorce can halve the family finances, sadden the children (and may traumatize them), affect the lifestyle, change the equation with family and friends, make both spouses feel insecure and lonely, and destroy the emotional bond that the spouses have taken years to build.
Assuming divorce will happen, no matter what, then the question you must ask yourself is whether you can handle the negative fallout of divorce responsibly and maturely. To do that, you have to create a support system (financial and/or emotional) that can help you tide over the difficult period. Once you are prepared to handle the negatives, know that you are ready for divorce.
Contact Us – We Are Here
to Help You
Schedule a time to talk with us – we are here to help you. When you meet with your attorney, we will go over your entire case, your children, your money and everything else that's important to you. Our goal is to remove the fear associated with divorce by protecting your money and maximizing your time with your kids, all within 3-6 months. We look forward to meeting with you!
Call us 24/7 at
801-685-9999
to Speak with a Live Representative
Get A Legal Consultation With An Experienced Utah Attorney
While this website provides general information, it does not constitute divorce advice. The best way to get guidance on your specific divorce issue is to contact a lawyer. To schedule a divorce consultation with an attorney, please call or complete the intake form above.
The use of the Internet (or this form) for communication with the firm (or any individual member of the firm) does not establish an attorney-client relationship. Confidential or time-sensitive information should not be sent through this form.