Why Do So Many Marriages Fail?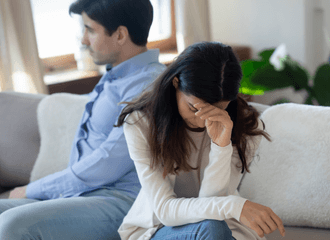 Many reasons such as incompatibility, lack of commitment, adultery, domestic violence, and more, can make marriages fail, but the following are the important factors that make people actually take action to end the failed marriage by filing for a divorce:
Individualism
Social Acceptance Of Divorce
Economic Opportunities For Women
Easy Exit
According to the last available statistics, the American marriage rate is 5.1 per 1,000 population, while the divorce rate is 2.3 per 1,000 population. The inference is that the divorce rate in America, relative to the marriage rate, is about 45%. Now here are the main reasons for the increased divorce rate:
Individualism
Like any other global citizen, Americans are focused on their individual happiness, self-fulfillment, and personal liberty. The belief that the rights, interests, and liberty of an individual are paramount was triggered by literacy, technology, prosperity, availability of jobs, and gender equality set in gradually – and made the traditional attitudes towards marriage obsolete.
Over time, more and more Americans started believing that self-sacrifice or conforming to societal values has lesser value when compared to individual choices, and that marriage must not be restrictive to personal growth. Such thoughts are based on the philosophy of individualism – individualists desire independence and do not consider obedience as important. The University of Nevada has found that individualistic societies like ours are very tolerant of divorce.
So, individualism is one of the trends that embolden a spouse to place his/her happiness above everything else, and file a divorce petition once he/she is convinced that his/her marriage has failed.
Social Acceptance Of Divorce
Once upon a time, American couples preferred to hang on to an unhappy marriage rather than think of divorce because divorce laws required a spouse to prove marital misconduct in the courts and there was a huge social stigma attached to divorce. Divorcing spouses, especially women, were made to feel a sense of shame and personal failure, and perhaps even looked down upon. If they ended the marriage, they were made to feel irresponsible – so, many married couples stayed put and sacrificed their personal happiness for the sake of societal happiness.
Gradually, as literacy, financial freedom, and individualism came to the forefront, the social stigma attached to divorce started fading. Many couples discovered that divorce was a better option than remaining in an unhappy marriage. The trend snowballed when divorce laws were made simpler and it became easy to get a divorce.
Economic Opportunities For Women
Rising literacy rates, an economic boom, gender equality, and technological advancements in America spurred job creation for both men and women. Educated and skilled women no longer had to depend on their husbands to bring home the gravy. Women started becoming financially independent and self-reliant – along with becoming individualistic in a social environment that had started normalizing divorce. They were no longer afraid of societal shame or of starting a career post divorce. If they had children, child care was available, and employed women had the money to pay.
Easy Exit
Long before the no-fault divorce laws were introduced, a spouse had to allege marital misconduct on the part of the other spouse and conclusively prove it in the courts – not an easy task. This kind of divorce system, referred to as at-fault divorce law, involved a painfully long and unpleasant process with a lot of acrimony, deceit, and counter-allegations flying between the couple, along with unnecessary drama in the courts. As the number of divorce petitions started increasing, the judicial system was strained because a whole lot of dirty laundry was washed in public.
This called for a reform of divorce laws, and so no-fault divorce laws were introduced. Now all a spouse had to do was to state irreconcilable differences, incompatibility, or irretrievable breakdown of the marriage as grounds for divorce. There was no more need to prove marital misconduct in the courts. Spouses just had to fulfill the state's residency laws and wait it out through the cooling-off period. At one time, it would take years to complete a divorce, but the no-fault divorce law reduced it to a few months (for low-conflict cases)! Today, all states allow spouses to file a no-fault divorce petition.
Naturally, this easy legal exit from an unhappy or a failed marriage has led to an increase in the number of divorce petitions.
These four factors have led to a rise in the number of divorces in our country.
Contact Us – We Are Here
to Help You
Schedule a time to talk with us – we are here to help you. When you meet with your attorney, we will go over your entire case, your children, your money and everything else that's important to you. Our goal is to remove the fear associated with divorce by protecting your money and maximizing your time with your kids, all within 3-6 months. We look forward to meeting with you!
Call us 24/7 at
801-685-9999
to Speak with a Live Representative
Get A Legal Consultation With An Experienced Utah Attorney
While this website provides general information, it does not constitute divorce advice. The best way to get guidance on your specific divorce issue is to contact a lawyer. To schedule a divorce consultation with an attorney, please call or complete the intake form above.
The use of the Internet (or this form) for communication with the firm (or any individual member of the firm) does not establish an attorney-client relationship. Confidential or time-sensitive information should not be sent through this form.