What Are The Warning Signs Of Divorce?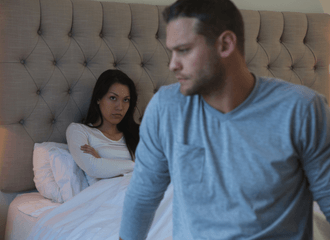 Psychologists and divorce lawyers have discovered that the following 6 signs in a marriage may trigger a divorce:
Emotional Disconnect
Avoidance
Wary Behavior
Uncaring Attitude
Secretive Attitude
New Looks, New Attitude
No online guide or research report can say with 100% accuracy that one or two signs in a spouse's behavior indicate that divorce is around the corner. However, there are some warning signs that a spouse must pay heed to that may (or may not) trigger a divorce. Unusual behavior of a spouse happening once in a while and followed by normalcy may not be a tell-tale sign of divorce. However, if the spouse's unusual behavior does not change, or keeps getting worse, then, yes, there may be trouble in the air. Actually, it also depends on the situation, home environment, and the circumstances that led to this kind of behavioral change in the spouse.
With that said, here are the warning signs of divorce that need to be taken seriously:
1. Emotional Disconnect
The spouses don't share their moments of sorrow or happiness.
A spouse starts resolving his/her problems without sharing them with the other spouse. Or, he/she no longer resolves issues mutually, the way it is usually done in a marriage.
A spouse does not care or show any interest when the other spouse shares his/her problems, or is not ecstatic when any cheerful news is shared with him/her.
A spouse is unmoved by the other spouse's emotions.
The time spent together keeps declining for no valid reason.
There is a lack of intimacy (physical as well as emotional).
A spouse feels unloved and uncared for.
2. Avoidance
A spouse does not commit to plans that the other spouse feels are good for the marriage.
A spouse does not seem to be invested in the marriage and his/her lack of interest keeps growing over time.
A spouse pulls back when the other spouse tries to get close to him (physically or emotionally).
A spouse starts talking about how to become more independent and self-reliant in the marriage.
A spouse keeps putting off discussing problems in the relationship – saying that problems can be resolved at a later date or when the time is right.
There is a lack of arguments in the marriage (because each spouse avoids discussing issues or resolves problems himself/herself).
3. Wary Behavior
A spouse is suspicious of the other spouse or ultra-careful most of the time – he/she feels that the other spouse may take advantage of him/her, trying to restrict him/her, or is trying to gather information.
A spouse gets irritated when questioned.
A spouse rarely expresses his/her own emotions (maybe he/she is afraid of slipping up by saying something secretive).
4. Uncaring Attitude
Both spouses argue or fight frequently and say things that are calculated to hurt.
Both or one spouse simply does not care about anything that goes on with the other spouse.
Both spouses disagree about significant decisions (having children, giving up on substance abuse, etc.).
Arguments or fights seem like a Mexican stand-off – with both spouses displaying a trigger-happy attitude.
A spouse is not available, maybe deliberately, when the other spouse needs him/her the most.
Marital problems remain unresolved, and one or both spouses give a damn.
A spouse goes out often with unknown friends or on unscheduled work-related trips or starts traveling frequently all of a sudden.
5. Secretive Attitude
He/she changes social media/email passwords, is careful about stuff posted on social media, or gives away tell-tale signals like closing his/her computer when the other spouse walks by.
A spouse gets suddenly secretive about marital assets and money or shows sudden interest in marital property.
6. New Looks, New Attitude
A spouse suddenly changes his looks or starts caring about his/her looks, while displaying one or more of the signs mentioned above.
A spouse develops a carefree, devil-may-care attitude towards the marriage without any valid reason.
If you come across such signs, and if they occur frequently or consistently, then it is a red flag. At one stage, you may feel deprived, emotionally depreciated, insignificant, confused, disliked, guilty, lonely, or unworthy in the marriage. You should then take firm steps to resolve the issues – i.e., either try and repair the irreconcilable differences or file for divorce – you should know what comes next one way or the other.
Note: Domestic violence and child abuse are not mentioned as warning signs of divorce because they are off-limits and should not be tolerated.
Contact Us – We Are Here
to Help You
Schedule a time to talk with us – we are here to help you. When you meet with your attorney, we will go over your entire case, your children, your money and everything else that's important to you. Our goal is to remove the fear associated with divorce by protecting your money and maximizing your time with your kids, all within 3-6 months. We look forward to meeting with you!
Call us 24/7 at
801-685-9999
to Speak with a Live Representative
Get A Legal Consultation With An Experienced Utah Attorney
While this website provides general information, it does not constitute divorce advice. The best way to get guidance on your specific divorce issue is to contact a lawyer. To schedule a divorce consultation with an attorney, please call or complete the intake form above.
The use of the Internet (or this form) for communication with the firm (or any individual member of the firm) does not establish an attorney-client relationship. Confidential or time-sensitive information should not be sent through this form.