Can Your Bank Account Be Frozen During A Divorce?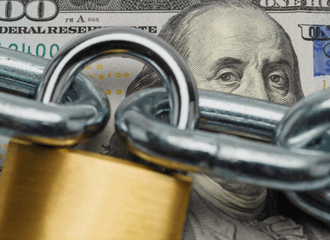 Yes, the courts can freeze your bank accounts and other marital assets during a divorce to stop you or your spouse from moving money out of, diminishing the value of, destroying, or alienating the marital assets. To get a better understanding of the topic, here are FAQs that should help:
Who Can Freeze Your Marital Assets And Why?
The courts can freeze your marital assets by issuing an ATRO (Automatic Temporary Restraining Order) under the following circumstances:
If the state laws mandate the courts to issue an ATRO after a divorce petition is filed.
If the state laws do not require the courts to issue an ATRO, a spouse can still request the courts for a Temporary Restraining Order (TRO) if he/she suspects that the other spouse will deprive him/her of the rightful share of marital property by fraudulently removing money from the bank or investment accounts, selling marital assets, or destroying them in any other way. The ATRO/TRO is likely valid until the divorce is finalized, or a court orders otherwise.
What Marital Assets Can Be Frozen By The Courts?
Aside from your bank account, the courts can also freeze the sale, transfer, or misuse of other marital assets like:
Tangible assets such as cars, homes, furniture, valuable art, furniture, cars, homes, etc.
Financial assets such as insurance policies, stock brokerage accounts, retirement funds, etc.
Intangible assets such as business goodwill, brand value, ESOPs, etc.
What Happens When An ATRO or TRO Is Issued?
When an ATRO or TRO is issued, it:
Prohibits spouses from selling, transferring, gifting, hiding, or destroying marital property, or obtaining a loan against any marital property
Prohibits spouses from changing beneficiary names on marital property like insurance policies, bank accounts, and investment accounts
Prohibits spouses from making any changes to their marital assets (for example, a spouse may try to remove the other spouse's name from a joint bank account)
How Does An ATRO or TRO Help?
While an ATRO/TRO does cause inconvenience, it can help protect a spouse's rightful share of the marital pot in high-conflict cases, high net-worth cases, or cases in which one spouse is a homemaker.
An ATRO also helps reduce costs related to divorce because once the marital assets are frozen, there is no need to hire forensic professionals or private detectives to investigate the other spouse's wrongdoing. The attorneys on both sides know exactly what is to be divided.
What Is Allowable Under An ATRO/TRO?
An ATRO/TRO does not stop necessary spending by the spouses. It allows the spouses to pay the basic bills (utilities), draw money for buying essentials (staples), and engage in any financial transaction that is considered obligatory in keeping with the circumstances surrounding the marriage (for example, paying an installment for an asset purchased during the marriage).
Other actions that are allowable under an ATRO/TRO include:
Making changes to a will or ending a right of survivorship
Canceling a joint tenancy
Hiring legal counsel
Opening a new bank account or investment account after separation
What Happens If A Spouse Violates An ATRO/TRO?
Any violation of an ATRO/TRO is considered contempt of court. When a violation is reported, the courts hit the pause button on the divorce case and shift their focus to the contempt case. The spouse who has violated the order can be fined or imprisoned or both. Moreover, the violation can negatively impact the violating spouse's child custody, alimony, property division, and child support case.
Contact Us – We Are Here
to Help You
Schedule a time to talk with us – we are here to help you. When you meet with your attorney, we will go over your entire case, your children, your money and everything else that's important to you. Our goal is to remove the fear associated with divorce by protecting your money and maximizing your time with your kids, all within 3-6 months. We look forward to meeting with you!
Call us 24/7 at
801-685-9999
to Speak with a Live Representative
Get A Legal Consultation With An Experienced Utah Attorney
While this website provides general information, it does not constitute divorce advice. The best way to get guidance on your specific divorce issue is to contact a lawyer. To schedule a divorce consultation with an attorney, please call or complete the intake form above.
The use of the Internet (or this form) for communication with the firm (or any individual member of the firm) does not establish an attorney-client relationship. Confidential or time-sensitive information should not be sent through this form.