Will Divorce Mediation Work For You?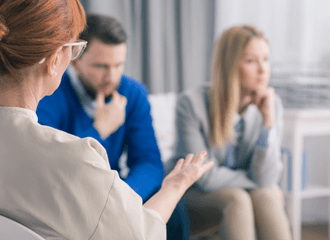 Divorce mediation may or may or may not work for you. It depends on one or more circumstances that are described in the following sections:
Situations that are favorable for mediation
Situations in which you may think about avoiding mediation
Divorce mediation is an alternative dispute resolution process that helps spouses complete their divorce in an amicable, informal, and friendly setting. Some states require couples who contest the divorce to participate in mediation before heading to trial – in some states, mediation is voluntary. Now here are the circumstances that make mediation suitable or unsuitable:
A. Situations That Favor Divorce Mediation
1. You and Your Spouse Are Friendly and React To Events In A Matured Way
If you and your spouse have agreed to divorce without harboring any ill-will toward each other after the event, and if both are mature and friendly enough to keep their minds open to negotiations, then mediation can work out for you. Once both of you conclude that the marriage is over and there is no going back, all you have to do is hire an experienced divorce attorney and seek his help in completing the divorce either by drawing up a settlement agreement and getting it approved by the court or by mediation.
2. There Is No History Of Domestic Violence
Mediation takes place best in a safe and secure atmosphere. So, if your marriage has no history of domestic violence, and if both spouses are in agreement, then you will have no problem finding a mediator who is ready to take up your case.
3. There Is At Least General Agreement On The Marital Property, Especially Finances
In some cases, both spouses may have agreed on and itemized the marital property and separate property, and they may broadly agree on how to divide the marital property, which includes assets acquired during the marriage, including bank accounts, investment accounts, homes, art, intangible assets, ESPs, and more. But there may be some other sticky points on which they cannot come to an agreement. In this situation, they can opt for mediation to resolve these issues.
Most disagreements in a divorce arise on account of finances (property, alimony, child support) and child custody, and so, if the spouses agree on alimony, child support, and how to split marital property, then all the other issues can be resolved by negotiations, common sense, and a little give-and-take.
4. There Is Broad Agreement On Child Custody
If both spouses realize that the courts always decide on child custody and child support matters in the best interests of the child, then chances are that they will also keep their egos and preferences aside and jointly create a parenting plan that works best for the child. Of course, there may be a few points that the spouses disagree about, and these can be resolved by divorce mediation.
B. Situations In Which You May Think About Avoiding Divorce Mediation
1. The Marriage Was Scarred By Domestic Abuse
A mediator may not accept your case if he discovers that your marriage was scarred by domestic violence (physical, sexual, or emotional). When domestic violence occurs in a marriage and the couple heads for mediation, chances are that the victim-spouse is being pressured to end the marriage amicably. Also, in such cases, one spouse may change his/her mind suddenly. A mediator can refuse to take your case if he becomes aware that the marriage was rocked by domestic violence. Even states that require spouses to go through mediation may not allow them to go through it if they find that the marriage had a history of domestic violence.
2. Your Spouse Is Untrustworthy
An untrustworthy spouse can hide assets, forge documents, lie, cheat, waste money, and do other such stuff that can throw a negotiation in the trash can. Mediation works only when both spouses trust each other, disclose all the marital assets and income, and are truthful and honest.
3. You Suspect Your Spouse Will Use Mediation To Delay The Case
Sometimes, a malicious spouse can use mediation to put off paying alimony and child support. This can happen because mediation is non-binding and the mediator is just a guide – he/she cannot pass an order. Any party can withdraw from the mediation at any time. So, if you suspect your spouse is opting for divorce mediation to delay matters, consult your lawyer who may suggest other alternatives like collaborative divorce or trial.
Contact Us – We Are Here
to Help You
Schedule a time to talk with us – we are here to help you. When you meet with your attorney, we will go over your entire case, your children, your money and everything else that's important to you. Our goal is to remove the fear associated with divorce by protecting your money and maximizing your time with your kids, all within 3-6 months. We look forward to meeting with you!
Call us 24/7 at
801-685-9999
to Speak with a Live Representative
Get A Legal Consultation With An Experienced Utah Attorney
While this website provides general information, it does not constitute divorce advice. The best way to get guidance on your specific divorce issue is to contact a lawyer. To schedule a divorce consultation with an attorney, please call or complete the intake form above.
The use of the Internet (or this form) for communication with the firm (or any individual member of the firm) does not establish an attorney-client relationship. Confidential or time-sensitive information should not be sent through this form.