Is it Better to File for Divorce First in Utah?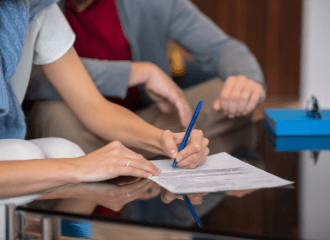 The spouse that files first for divorce in Utah (or any other state) can get some strategic advantages such as:
Choice of court venue
Obtaining ex parte temporary protective orders
Four other first-mover advantages
Choice of Court Venue
Let us take an example: Spouses A and B, who don't have minor children, live in Utah's Salt Lake County. They decide to separate and give their marriage another chance. Spouse B goes to live in Davis County. Four months into the separation, they have a vicious fight, and spouse B decides to file for divorce – but he/she wants to file the petition in Davis County and not in Salt Lake County because an experienced and trusted lawyer friend practices in Davis County. Spouse B discovers that he/she can file the divorce petition in Davis County – because Utah's residency requirement of living at least 3 months in a county before petitioning for divorce is fulfilled.
The big advantage of filing for divorce first is that, so long as you fulfill your state's residency requirements, you can file your petition in the county or state in which you are currently domiciled. You get first preference in choosing the court venue, which makes it convenient for you – for example, you don't have to travel, leave your family or support system behind, or spend time hunting for an experienced divorce lawyer in another county/state.
However, know that choosing the venue does not confer any specific legal advantages to the person who files first.
Obtaining ex parte Temporary Protective Orders
If domestic violence or abuse has occurred in the marriage, then the first petitioner can present sufficient evidence to the courts and obtain child protective orders, protective order, or restraining orders against the other spouse.
If the evidence is strong, the courts can grant the orders ex parte (meaning that the orders may be entered without hearing the other spouse). The orders are served to the other spouse and he/she usually gets 20 days to respond – and during this period, the petitioning spouse can also file a criminal case against the other spouse. Based on the evidence and the seriousness of the charges, the other spouse's visitation rights may be severely curtailed or supervised. In rare cases, he/she may not be allowed any visitation. In addition to the civil case impacting the abusing spouse's child custody arrangements, an accompanying criminal case may also dole out harsh penalties, including jail time.
The petitioning spouse may also get the first-mover advantage of obtaining temporary orders related to matters like the sale of marital property, child support, child custody, health insurance, etc.
Four Other First-Mover Advantages
The first petitioner plans ahead and is, therefore, better prepared. He/she can also estimate the hearing dates based on the district court's schedule.
He/she also gets the time required to interview several family law attorneys and hire an effective and experienced attorney who is best suited for the case.
The first petitioner also gets adequate time to meticulously gather documents like bank statements, mortgage statements, brokerage statements, retirement benefit accounts, property deeds, insurance documents, bills, and more – and store them at a secure location after making electronic copies.
Planning ahead and discussing the matter with an experienced lawyer before filing the case also leaves the petitioning spouse with additional time that can be used to build up a support system (therapists, finance professionals, etc.), hire experts (forensics, appraisers, etc.), and devote adequate time to the children who may be feeling neglected or alienated.
Every divorce is tragic, but all divorces are unique. Therefore, it is best to consult your divorce attorney whether filing first makes sense in your case. If it does, but you miss out on filing first, know that the courts give both spouses an equal opportunity to be heard, and so your primary job is to focus on hiring an experienced lawyer without worrying about any other matter.
Contact Us – We Are Here to Help You
Schedule a time to talk with us – we are here to help you. When you meet with your divorce lawyer, we will go over your entire case, your children, your money and everything else that's important to you. Our goal is to remove the fear associated with divorce by protecting your money and maximizing your time with your kids, all within 3-6 months. We look forward to meeting with you!
Call us 24/7 at
801-685-9999
to Speak with a Live Representative
Get A Legal Consultation With An Experienced Divorce Lawyer in Salt Lake City, Utah