What Year of Marriage is Divorce Most Common?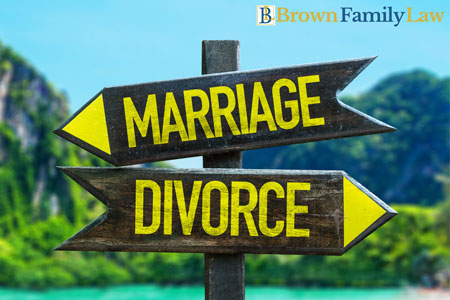 Divorces are most common during two phases of married life:
Years 1–2
Years 5–8
Having said that, wildcard events such as cheating on a spouse, financial difficulties, substance addictions, growing apart from each other for any reason, or a communication breakdown can happen at any stage of marriage and trigger a divorce.
Researchers have concluded that human decision-making is mostly irrational, and therefore it is not surprising to learn that only 50% of married adults are living with their spouse as of 2021.
Here are the reasons why these high-risk periods of marriage can trigger a divorce:
Why Divorces Occur in Years 1–2 of a Marriage
When two people start living together as husband and wife, it is then that they discover the "real" person they fell in love with, and in many cases, this disillusionment can turn dreams into nightmares. If one spouse displays erratic or irrational behavior, the other spouse then starts wondering if this is something she/he wants to live with for the rest of their lives.
Many pre-nuptial agreements contain terms that require the "monied" or "celebrity" partner to pay a substantial sum to his spouse after the first year of marriage.  In many cases, especially when the income disparity is high, the "monied" spouse ends the marriage before the prenuptial agreement's terms kick in.
Incompatibility (financial, sexual, or psychological) issues too tend to get triggered during this phase, leading to dissatisfaction and resentment, and finally to divorce.
Why Divorces Occur in Years 5–8 of a Marriage
Issues related to children often crop up during this phase. The spouse who has to juggle between work, homemaking, and bringing up children can snap or breakdown, and file for divorce.
The 7-year itch can be felt by either spouse. The outcome, when the cheating and the lying are discovered, is obvious.
Budgets and finances get strained in most families when kids arrive, leading to arguments and ugly fights. When this happens regularly, spouses can lose patience as well as respect for each other. The situation gets increasingly ugly and out of control over time, leading to divorce.
Familiarity breeds contempt and couples who know each other like the back of their hand feel there is nothing more left of each other to discover. Sexual activity can decrease dramatically, or some spouses may feel they do not have the space to grow, leading to divorce.
Other phases of marriage, years 3–4, 9–15, and 15+, are less risky compared to the two phases discussed above.
Contact Us – We Are Here to Help You
Schedule a time to talk with us – we are here to help you. When you meet with your divorce lawyer, we will go over your entire case, your children, your money and everything else that's important to you. Our goal is to remove the fear associated with divorce by protecting your money and maximizing your time with your kids, all within 3-6 months. We look forward to meeting with you!
Call us 24/7 at
801-685-9999
to Speak with a Live Representative
Get A Legal Consultation With An Experienced Divorce Lawyer in Salt Lake City, Utah