Can I Get Divorced Without Going to Court?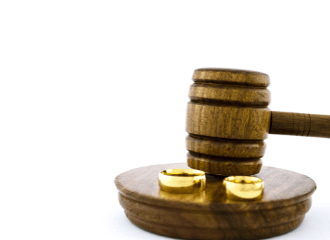 You can get divorced without having to face a court trial by choosing any one of the following alternate dispute resolution (ADR) methods:
Uncontested divorce
Mediation
Collaborative divorce
Arbitration
Uncontested Divorce
If you and your spouse have agreed on contentious issues such as alimony, child custody, type of custody (physical/legal), visitation rights, parenting time, child support, and distribution of marital property, then your family law attorneys can prepare a divorce settlement agreement that contains all the terms you and your spouse have agreed to.
To complete legal formalities, you may be required to serve the petition on your spouse, have him/her file a response, fill out forms that slot your case on the court's calendar, submit income details, alimony and child support calculations, parenting plan, any other documents mandated by the state to the court, along with the signed divorce settlement agreement. You would also need to prove that you have satisfied your state's residency requirements.
After submitting the papers, the judge is likely to ascertain whether you have voluntarily signed the agreement and whether you have understood its terms. If the judge finds the agreement fair and reasonable, which happens almost 100% of the time, he/she will approve it.
An uncontested divorce is cheaper than any other form of divorce process. It saves time and protects minor children from emotional trauma, its outcome is known, and the divorce settlement agreement does not include the details of the spousal feud – therefore, none of the ugliness surrounding your divorce is preserved in public records.
Mediation
Divorce by mediation goes through a mediator, in most cases an attorney experienced in family law. The mediator does not have any decision-making authority, but he/she can evaluate your case and help you complete the divorce by encouraging clear communication, promoting the understanding of each other's views, and supporting creative problem-solving.
Mediation is quicker, simpler, informal, friendly, and cheaper than divorce litigation. Mediation is a legally sound and confidential method of resolving a divorce. It is suitable for couples with minor children (the children don't have to experience the bitterness and acrimony of a court battle) or spouses who have mutually decided to part ways or those who are likely to continue being friends after the divorce.
Once the mediation is complete, the mediator, or the parties' attorneys, write a mediation agreement, which you have to sign after agreeing to all the terms. Then the agreement is reviewed by a family court judge. After the judge approves it, the dissolution of the marriage is final.
Collaborative Divorce
In collaborative divorce, spouses, along with the help of their divorce attorneys, try to reach an agreement outside of court (both parties have to agree not to take the case to court while the collaborative divorce proceedings are in progress). The meetings take place in a private setting (usually an attorney's office). The divorce lawyers can call on experts such as financial professionals, doctors, property appraisers, etc., to substantiate their client's claims or disprove the other spouse's claims.
Unlike mediation, collaborative divorce is a team effort that relies mainly on informal negotiations to reach an agreement. If the process fails, the spouses can opt for filing a divorce petition in court or opt for arbitration. Couples who are mature enough to agree their marriage is over, are committed to dividing the marital assets fairly, and want to end the marriage amicably without wasting time, emotions, or money may opt for collaborative divorce.
After the proceedings are complete, and both parties have agreed to the terms, the divorce agreement is drafted, signed by the spouses, and filed with the courts to obtain the divorce decree.
Arbitration
Before considering divorce arbitration, know that many states do not allow it, and the ones that do require the spouses to get approval from the family courts.
In this alternative dispute resolution (ADR) process, spouses have to hire an arbitrator, usually a retired judge with expertise in family law matters, and sign an arbitration agreement in which the spouses must agree to honor the arbitrator's decisions.
The arbitrator is also referred to as a private judge because arbitration is just like a trial, the only difference being that it is not held in a public setting. Arbitration can be quick, efficient, cheaper, and informal.
After hearing out the spouses' attorneys, the arbitrator reaches a decision, which is also referred to as an arbitrator's award. The arbitrator's decision is final and spouses may be precluded from appealing the decision to the court, depending on where the spouses live. In any case, if you use arbitration, you have to expect the arbitrator's decision will be final.
This process makes sense for spouses who desire a formal trial in a private setting that is more efficient than a bureaucratic family court. Also, couples who want privacy can opt for arbitration after mediation or collaborative divorce methods have reached a stalemate.
If you don't want your case to reach the courts for trial, you can consider choosing any of these methods, depending upon which ADR best suits your case. After the ADR is over, you have to complete some formalities such as submitting the required documents and forms to the courts. Some states may require you to appear in court after completing any one of the ADR methods mentioned above. You may be required to answer some queries about the divorce settlement agreement, a process that is not likely to take more than 15–30 minutes.
Contact Us – We Are Here to Help You
Schedule a time to talk with us – we are here to help you. When you meet with your divorce lawyer, we will go over your entire case, your children, your money and everything else that's important to you. Our goal is to remove the fear associated with divorce by protecting your money and maximizing your time with your kids, all within 3-6 months. We look forward to meeting with you!
Call us 24/7 at
801-685-9999
to Speak with a Live Representative
Get A Legal Consultation With An Experienced Divorce Lawyer in Salt Lake City, Utah